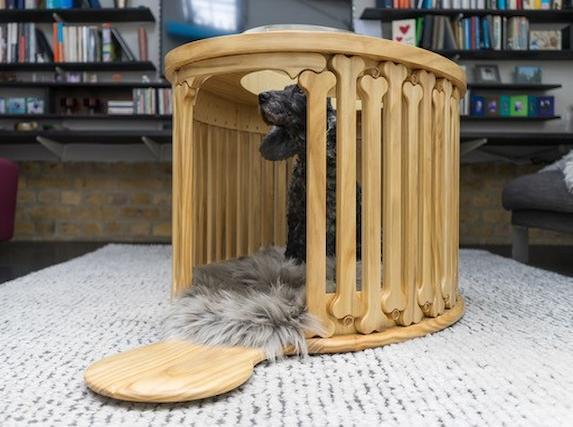 Birds Portchmouth Russum beats star names to win kennel design competition | New
Birds Portchmouth Russum Architects have triumphed over some of the UK's most prominent architects to win a design competition for a kennel.
The practice propelled Foster & Partners, Rogers Stirk Harbor & Partners, Hopkins and Stanton Williams to victory in yesterday's Barkitecture competition, part of the Goodwoof Canine Festival held at Goodwood House in the weekend West Sussex.
BPR entry Bonehenge also saw a submission from former Apple design director Jony Ive and his business partner Marc Newsom to win the hotly contested competition, which was judged by a panel full of names. stars including Grand Designs presenter Kevin McCloud and comedian Bill Bailey.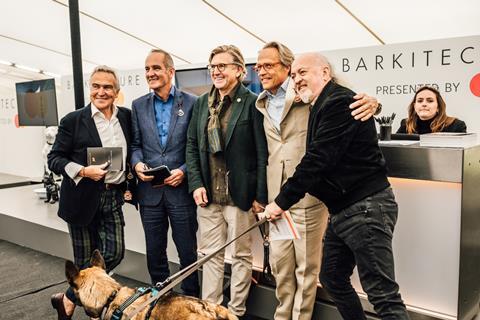 The wooden kennel, designed for Illy, a blue roan cocker spaniel currently serving as BPR's Health and Welfare Officer, is surrounded by a ring of balusters in the shape of dog bones and features a skylight in the shape of a dome.
McCloud said the design "ticked all the boxes", adding that it was "light and airy and mostly fully sustainable".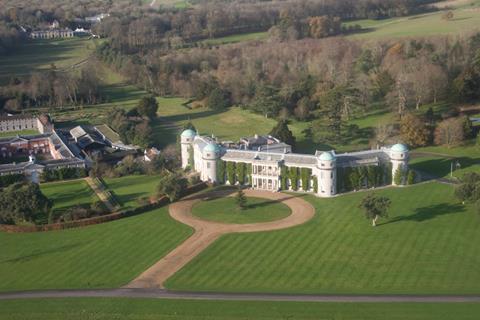 The kennel is also neat in the water, with a catchment dish on its roof designed to sink into a dog bowl at the entrance, while its oval shape was inspired by the Cocker Spaniel breed's habit of turning in circles before settling down to rest.
He sold for £2,500 at a charity auction following the judges' decision yesterday afternoon, going towards more than £30,000 raised by the competition for the Dog's Trust.
"We are really pleased as there were so many entries from leading architects," the firm said in a joint statement from the design team. "It's amazing that 20 architects can design such a wide range of interesting solutions."
But the team admitted: "Our client Illy is far from happy that her house has been sold – we need to get Bonehenge Mark 2 up and running quickly."
Foster & Partners' entry, a wooden geodesic dome designed by a team including practice founder Norman Foster, sold for £4,600. RSHP's Star Wars-inspired Dog Pod sold for £1,000 while Hopkins' brutalist The Dogular was bought for £700.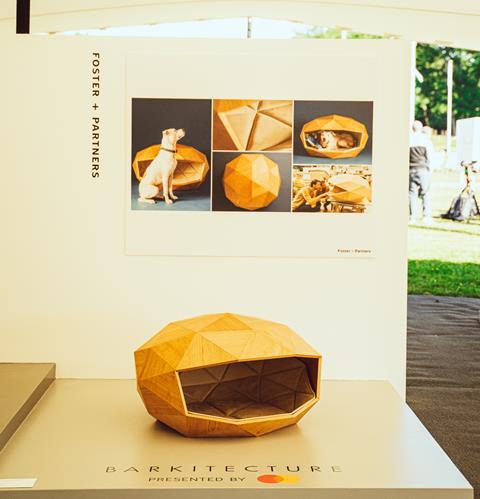 Stanton Williams' The Nook, which incorporated both a chair and a side table – and included an opening for dispensing snacks – sold for £1,500, while the auctioneer's gavel knocked at £3,800 £ for Ive and Newsom's entry, Love From.
The best-selling kennel was furniture designer David Linley's Venice-inspired Doge House, a gothic plywood 'palazzo' which sold for £6,000 following a flurry of offers.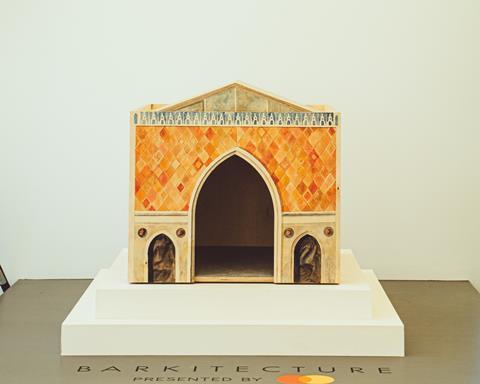 Other firms that participated in the competition include Henning Stummel Architects, Hawkes Architecture, Haysom Ward Miller Architects and Lincoln Miles Architecture.
Festival events also included storytelling sessions read by Anne Robinson and Downton Abbey star Hugh Bonneville and a 50m dog race with competitors including tennis player Johanna Konta and her dog, Bono.